- JOIN OUR NEWSLETTER
Sign up to receive emails with coupons, new items, classes and more!
December HINT: Are you BLUE? Fall is a great time to head INTO THE WOODS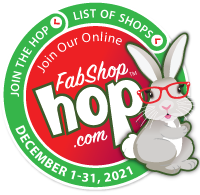 January HINT: We LOVE Art Gallery fabrics! They have a beautiful hand and unique contemporary images. Check out the new TWENTY line, especially the GINKO leaves.